3M Products - Automotive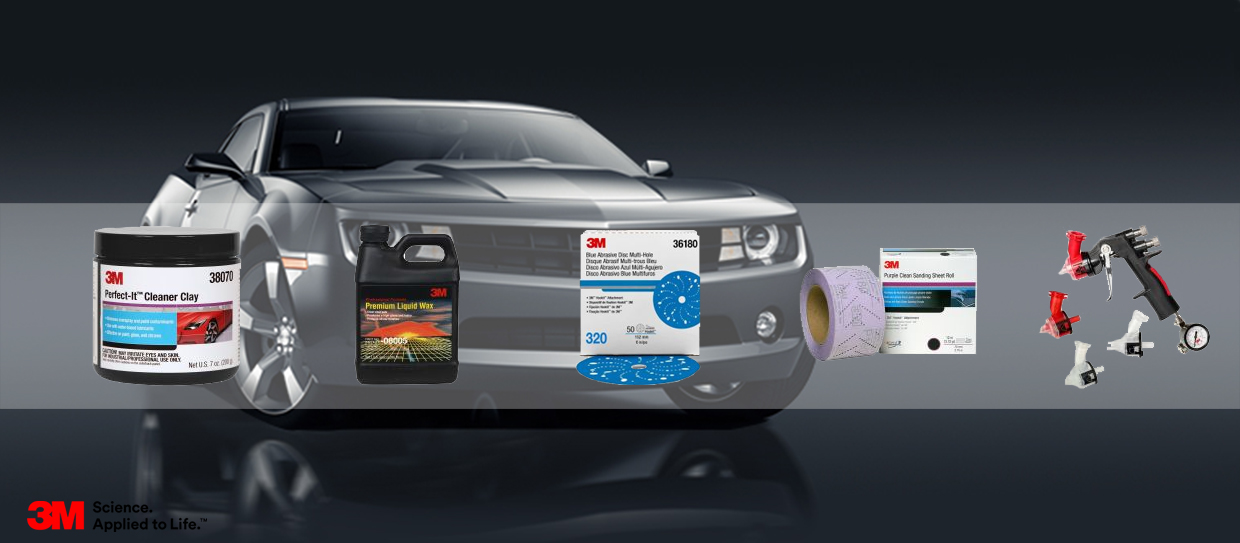 View Products
3M Products - Automotive
The 3M Company is among the most prominent U.S.-based companies with more than 60,000 products available to consumers. Many of these products are geared toward or applicable to automotive purposes, and if you are an automotive professional or enthusiast, then you likely know 3M well. Restomotive is among the leading online retailers of automotive supplies. We sell the brands you know and trust. It probably comes as no surprise that we offer one of the largest selections of 3M automotive products available online, as well as in the Greater Denver area.
The 3M Company
The 3M Company has been around for more than 100 years. 3M makes high-quality automotive products, which includes power tools, hand tools, accessories, cleaning supplies, protective coatings and more. You can find many of these products in our store and on our website.
Restomotive
Restomotive began as a local brick-and-mortar store in Denver, Colorado way back in 1973. From the moment we opened our doors, we've sold 3M products because they are American products we can stand behind. We use them ourselves. About 25 years after we opened our stores, we ventured online, and we can now serve Denver and the entire United States. Our local approach, including friendly customer service and low prices is now available to all.
3M Products Automotive Products
It is difficult to relate the sheer scope of 3M automotive products available when you shop Restomotive online. Performing an auto body restoration? We have tools, accessories, fillers, glazes, dynamic mixing systems and more, all from 3M. Applying paints and coatings? Through us, 3M not only provides the masking and paint sprayers you need but the materials too: paints, clear coatings, underbody coatings, paint removers, rust converters and more. Other categories covered by 3M include detailing, sound deadening, electrical, mechanical, cleaners and even safety equipment.
There are so many products by 3M available in all of these categories that it can seem a bit overwhelming. Not to worry. Whether you visit our Denver location or shop Restomotive online, we have experts on hand that know 3M automotive products inside and out. Tell us about your project, and our friendly staff will be glad to help you choose the perfect 3M tools and supplies for the job. 3M and Restomotive will stand behind these products long after the purchase.
Serving Denver and the United States
Restomotive is proud to be the leading source for body shop and restoration supplies. We are also proud to be serving Denver and the United States and beyond. It means a great deal to us to have grown from a shop serving a particular region to this expansive online presence serving everyone. We think our success lies in how well we have translated that local small business approach to the online space. At Restomotive, we value your business and want to make you our next loyal and long-time customer.
Shop Restomotive Online
We make the online shopping experience simple and enjoyable. You can search our entire site for particular 3M products or categories, or you can peruse via the manufacturer or other filters. Our everyday low prices are available to you online as well, and you can click on the Specials tab to check out our latest online sales. Buying the automotive accessories you need has never been easier!
If you need assistance with your product choices or with the check-out process, our support staff is available to you during standard business hours. Once you have ordered, expect your purchases to ship fast and arrive fast. We even waive shipping fees on all orders over $75. Your products from 3M will arrive in perfect condition, and if you have any questions or concerns, our team will be here to sort them out.