Denver Automotive Glass Cleaner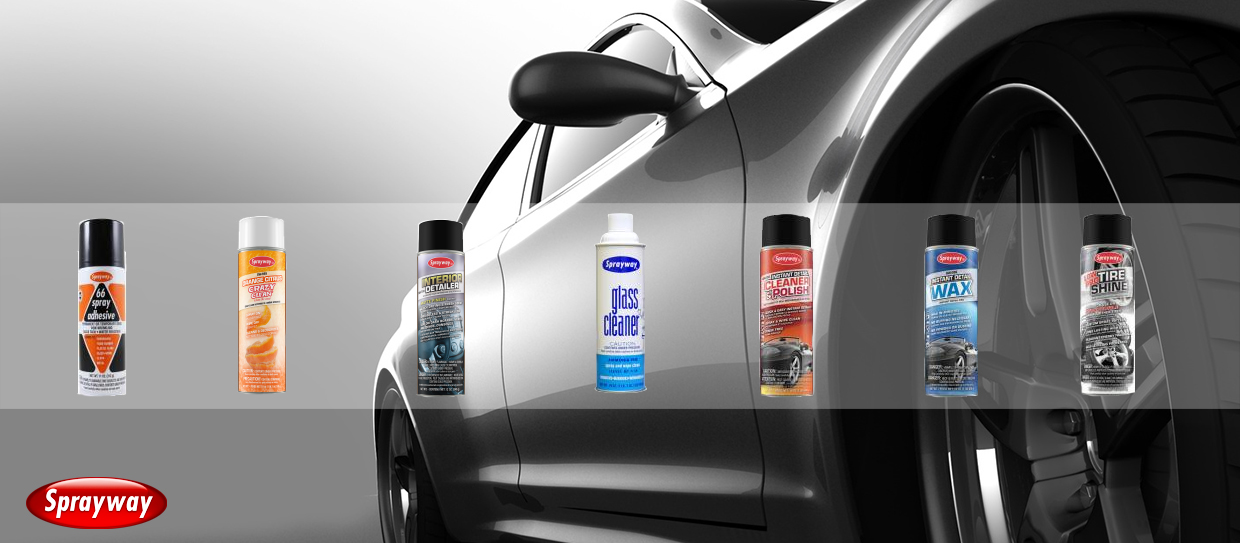 View Products
Denver Automotive Glass Cleaner
Introducing the world's best glass cleaner! Sprayway Glass Cleaner, which is available online through Restomotive, has been a top choice among professionals since it was introduced in the 1940s. Sprayway Glass Cleaner has been a top choice for households as well as medical facilities, and other commercial environments, including automotive dealerships and detailers. Sprayway Glass Cleaner was the original pressurized glass-cleaning product. Its formula is a heavy-duty foam that will cling to even vertical surfaces, with no annoying dripping or running. It contains no harsh ammonia, and has a pleasant scent.
The World's Best Glass Cleaner
When Sprayway Glass Cleaner was introduced in 1947, the world had never seen anything like it. It was not only innovative it seemed downright futuristic. It was used in environments where liquid-based glass cleaners proved problematic. Sprayway Glass Cleaner is fast-acting. When you apply the foam, it cuts through the most stubborn grease and binds to the particles. When you wipe it away, the grime is gone and so is the glass cleaner. It leaves no streaks or residue. This product works fast and leaves a beautiful, clear glass surface every time.
A Potent and Refined Formula
Sprayway is an American company and proud of it. The company was established in 1947 and enjoyed immediate success, as more and more professional sectors embraced it as their glass cleaner of choice. Car enthusiasts use it as their secret weapon to make their vehicles shine. It's perfect for household use as well. It is safe, effective and economical: a single can of Sprayway Glass Cleaner goes a long way and lasts a long time.
Why You Should Use Sprayway
If you want a glass cleaner that give you a great-looking shine each and every time, Sprayway is the glass cleaner you want. It's easy to use -- no elbow grease is required, and using it is quick and easy. The grime will be gone, and there will never be any streaks.
Restomotive: Your Sprayway Retailer
Restomotive is among the leading retailers of Sprayway products. We established our business in 1973 in Denver. Our company is proud to serve Denver and the surrounding areas throughout Colorado, and we sell Sprayway Glass Cleaner to customers in this region through our brick-and-mortar location. In 1999, we became one of the first companies in our industry to build an online presence and begin selling our products not just to customers in Colorado but throughout the United States! For more than 45 years, we have been delivering the brands you can trust at the best prices around.
Buy Sprayway Glass Cleaner from Restomotive
At Restomotive, we have great confidence in Sprayway products and have been recommending this glass cleaner to our customers since we first opened our doors. Our relationship with Sprayway has continued for decades and allows us to offer the lowest prices on the World's Best Glass Cleaner. Whether you need a single can or a dozen or more, our online sales and specials let you stock up and save even more. Shipping is fast and inexpensive, and we make it free on orders over $75.
We take great pride in on-time delivery. You can expect fast shipping times. Restomotive will give you an arrival estimate before you order, and you can expect your Sprayway Glass Cleaner to arrive within that window. If you have questions, we are happy to answer them. Just contact us via email or through our website, and during standard business hours, you can expect a near-immediate response.