House of Kolor Products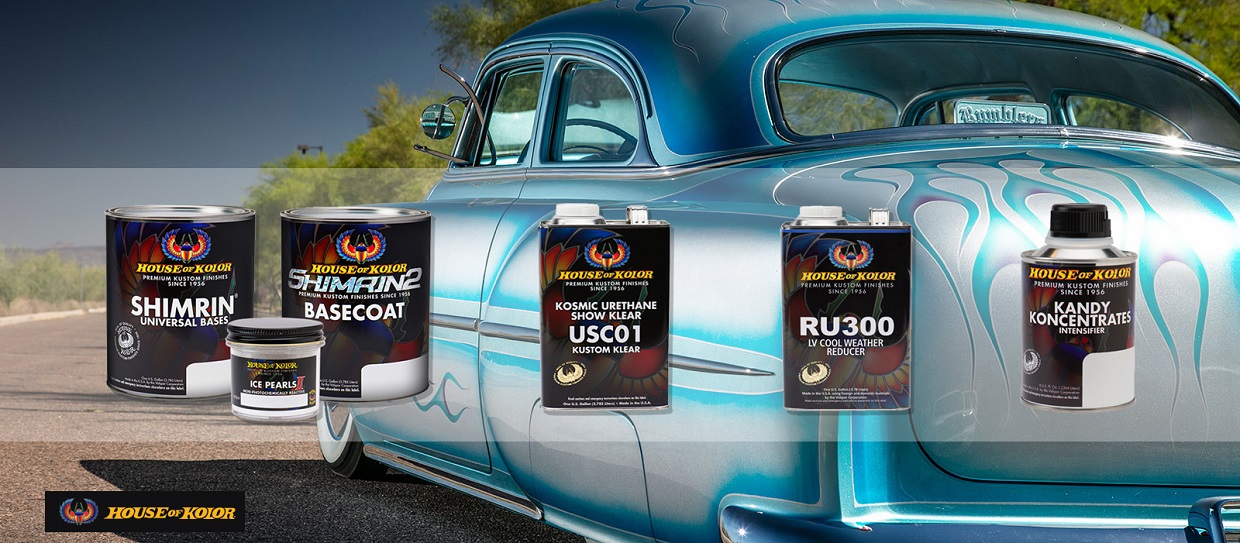 View Products
House of Kolor Products at Restomotive
Here at Restomotive, headquartered in Denver Colorado, House of Kolor is one of our most popular brands, helping us provide DIYers across the United States with a splash of just the right color for just the right job. House of Kolor's wide range of products and appealing colors give you the freedom to restore and enliven any vehicle.
This brand has given their heart and soul to "changing the world of kolor" since 1956 and has been legendary ever since. That's not an idle boast. Thanks to their custom "kolors", there are many eye-catching rides rolling around the world today, in dashing colors that brighten days and change attitudes. If you have a vehicle you're restoring, House of Kolor is your best bet for that custom paint job. These colors will rock the house (and your car, truck, SUV or motorcycle.)
HOK Online Sales and Specials
Specials are our specialty! House of Kolor offers a wide variety of products and tools. Novice and professional painters alike will be excited to see the huge selection available to them. Shoppers from Denver and across the United States can easily and conveniently shop online and take advantage of the great prices and easy options to save even more with special offers.
Everyday Savings
Customers will save big with our everyday low prices on House of Kolor products! How can we price House of Kolor products so low? Efficiency! Online stores are more efficient, so savings can be passed on to our customers, along with a steady flow of specials that let you buy great painting products at lower prices than competitors.
Why Buy from Restomotive
We've got a hearty portion of HOK products on sale today, and we'd love it if you took a gander at them. Our website is easy to shop from, with your products prominently displayed page by page, ready to be purchased with a click of a button. You can shop from your PC, tablet, laptop, or even from your smartphone.
You Can't Beat Our Selection!
There are currently more than *315 House of Kolor products to choose from, we've got the perfect color and tool for every occasion. To give you an idea of the breadth of our product line, here is just a small sampling of what we have on tap for our loyal customers:
Kosmic Urethane Show Klear Clearcoat Gallon Kit w/ Catalyst
Kosmic Kolor Pagan Gold Urethane Kandy (Quart)
Glamor Metallic Basecoat
Shimrin Sunset Designer Pearl (Quart)
Kustom DTS Foundation White Surfacer Sealer Kit w/ Hardener (Gallon)
That's just the beginning of all the colorful fun you can have when you opt for HOK. This brand has dominated the market for many decades, and it'll be around 100 years from now, because customers love its superior quality, consistency, and the huge range of beautiful color choices available to them! When you use these products to restore your vehicles, they're going to look like a million bucks. Check out our great deals on House of Kolor products!
Restore More with Restomotive!
When you want to color the world the way you want to see it, products like House of Kolor make it possible to do so. Their custom paint products give you a colorful world that exists nowhere else. They know color so well they felt comfortable redesigning the name itself. HOK colors are lively, sophisticated, vibrant, and exciting, and their passion for creating colors for your next auto restoration makes the world a fun place to be!
*Product assortment may vary.