POR-15 Hand Sanitizer for Sale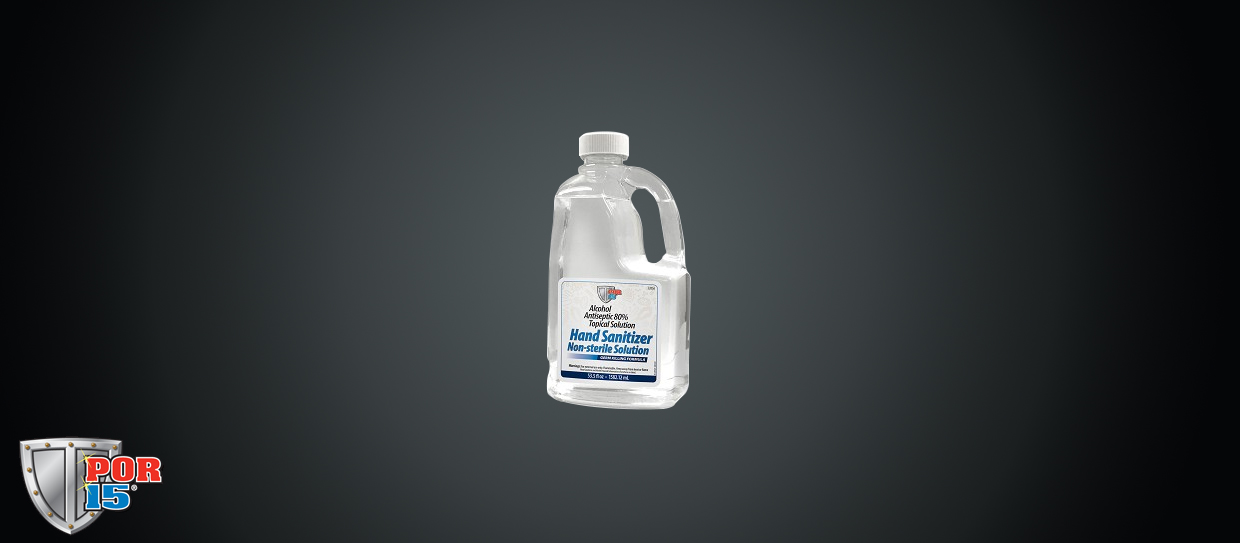 View Products
POR-15 Hand Sanitizer for Sale
The recent world health crisis has demonstrated the critical importance of maintaining a sanitized environment. Though we all know washing your hands with warm, soapy water for at least 20 seconds reduces harmful germs, it's not always a feasible option. Hand sanitizing gel is a fast, effective way to kill germs on your hands when you cannot wash them at a sink. However, the recent pandemic has made it difficult – if not impossible – to find hand-sanitizing gel products in local stores. You'll be happy to know that Restomotive carries POR-15, a high-quality hand sanitizer, available in our online store! We encourage you to stock up now, and place an order today!
The Effective, CDC-Approved Hand Sanitizer You Need
The CDC recommends that a solution containing at least 60 percent alcohol be used for cleansing and hygiene when it is not possible to wash your hands with soap and water. POR-15 hand sanitizer is made with at least 80 percent alcohol, which exceeds the CDC guidelines. POR-15 hand sanitizer is proven to kill 99.99 percent of germs, including disease-causing bacteria. Its benefits can be enjoyed within seconds by simply applying the product to the hands and rubbing the hands together. Because towels and water are not needed, the concern about cross-contamination is alleviated. Using POR-15 hand sanitizer is quick and easy, and it greatly reduces paper waste.
Serving Our Valued Clients' Needs for Decades
Restomotive has been serving the Denver area since 1973, and we have provided products online to clients across the country since 1999. We continuously update our product line to meet the changing needs of our customers. Stocking up on POR-15 hand sanitizer could play a dramatic role in protecting your health and safety, as well as that of everyone you come in contact with. We sell POR-15 hand sanitizer online in a large bottle so that you can easily refill your smaller containers at home or in the workplace.
Your Trusted Online Source for Quality Hand Sanitizer
The dependable team at Restomotive stocks POR-15 hand sanitizer to help keep you and others healthy and as safe. While many stores in your local area may be sold out of hand sanitizer, you will be relieved to know that Restomotive has a full supply of quality hand sanitizer in stock and ready to ship to your home or workplace. Because POR-15 hand sanitizer is in high demand, we encourage you to connect with our sales team today to lock in your order. We're happy to answer your questions, and let you know about any specials or promotions that may apply to your purchase. We process all orders promptly, so you can expect to receive your hand sanitizer quickly.
Place Your Order Today
Restomotive is proud to offer products that help keep you, your family members, or employees safer. We're your trusted source for POR-15 hand sanitizer, and we encourage you to place your order for POR-15 hand sanitizer online today so that you can receive your order as soon as possible.