Raptor Products for Sale - United States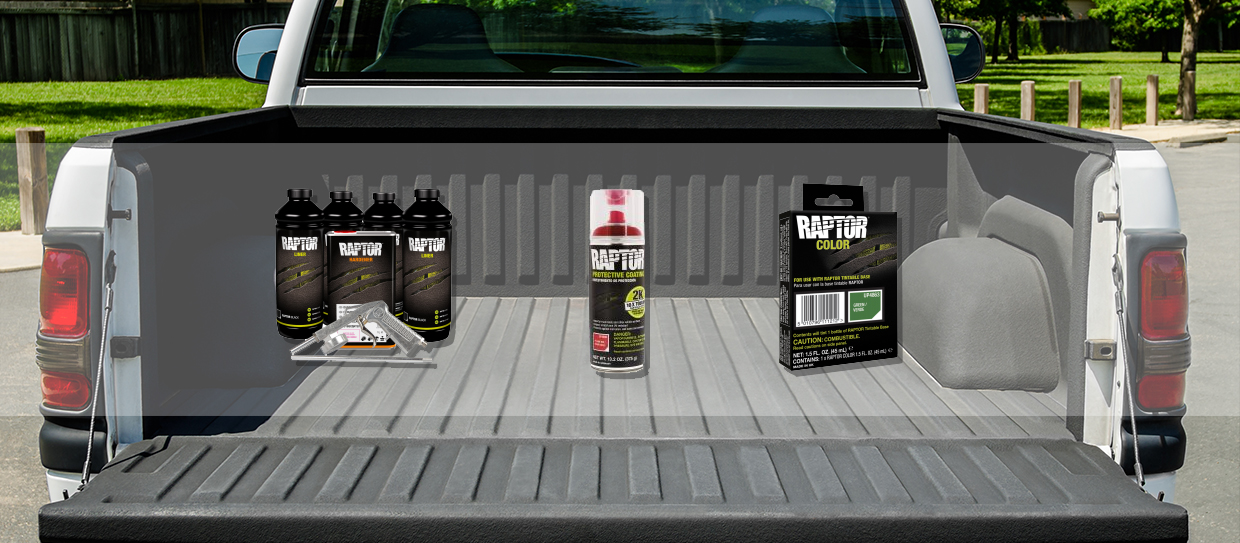 View Products
Raptor Products at Restomotive
Raptor is the premier name in automotive surface repair and glorification. If you already have a beautiful truck, you can protect its bed and other surfaces via Raptor products for sale. Our Raptor inventory is 100% the real deal! Restomotive, a Denver, Colorado-based business, wants to help you make your vehicle the best it can be. When you're looking for Raptor products for sale, you'll find them on our website.
Serving United States with Raptor Online Sales and Specials
So what's Raptor got that the other guys don't? Let's start with just a few of our most popular products, which avid truck owners buy every year through our U.S. website.
Raptor 2K Bed Liner
It's Raptor in a can at its finest and most convenient. This aerosol product nets you a rock solid, durable bed liner protective coating in mere moments. It gives you a pure, textured gun finish that repairs and protects at the same time. Few people want to do without a can of this one, and you can purchase it in an array of colors, including olive, white, and flame red (ask us about other colors options).
Professional Application Gun
Sometimes, when you need a professional job done right, you've got to go with professional equipment. This application gun has an adjustable spray nozzle that allows you to get the exact finish and texture you want. It's perfect for anti-rust and undercoating protection, too.
Traction Slip Resistant Additive
When you need a slip-resistant surface, this is the product to apply. It's a perfect solution for slippery truck beds, which will benefit from a little extra traction to prevent accidents.
RAPTOR 4:1 Anti-Corrosive Epoxy Primer Kit
When you need a primer kit, this is the way to go. If you're dealing with a rust problem, this is perfect to apply over it, giving you great coverage, and helping to keep the elements out. A single liter covers 60 square feet. It's also anti-corrosive for a lasting finish that can withstand anything nature throws at it.
Raptor Color
If you want a tough, beautiful coating, we highly recommend Raptor, with15 bold colors to choose from, all of which form a protective barrier against the elements. To keep your fleet looking beautiful and viable, this high-quality product is a must!
Why Buy from Restomotive
Now that you know just how useful and necessary Raptor tools and products are, you might wonder why you should buy from us. We've been around the block for a while now, and we know exactly how to make fixing up your fleet of vehicles fun and easy. With daily specials that keep prices pleasingly low, superior, high-quality products like Raptor are always affordable.
We've got:
Daily deals on popular Raptor products
A fun and friendly sales team that knows how to get you the deal you want
All the Raptor tools you could ever need
An online store that lets you shop from anywhere
Easy to use shopping carts that let you check out quickly
Our website makes it easy to buy the latest and most trusted products from Raptor. When you need a restoration job done right, want the right products and tools for the job. Raptor is the perfect solution for any automotive restoration project, and you'll save big when you shop online with Restomotive.
Learn More Today
As you can see, we're serious about the Raptor brand!
If need the restorative power of Raptor, please consider shopping with us for your next big restoration project. Our team will be happy to help you choose the right Raptor product and answer your questions. Contact us today with questions about Raptor products, or our company! We'll be glad to help.