Sprayway Glass Cleaner - The World's Best Glass Cleaner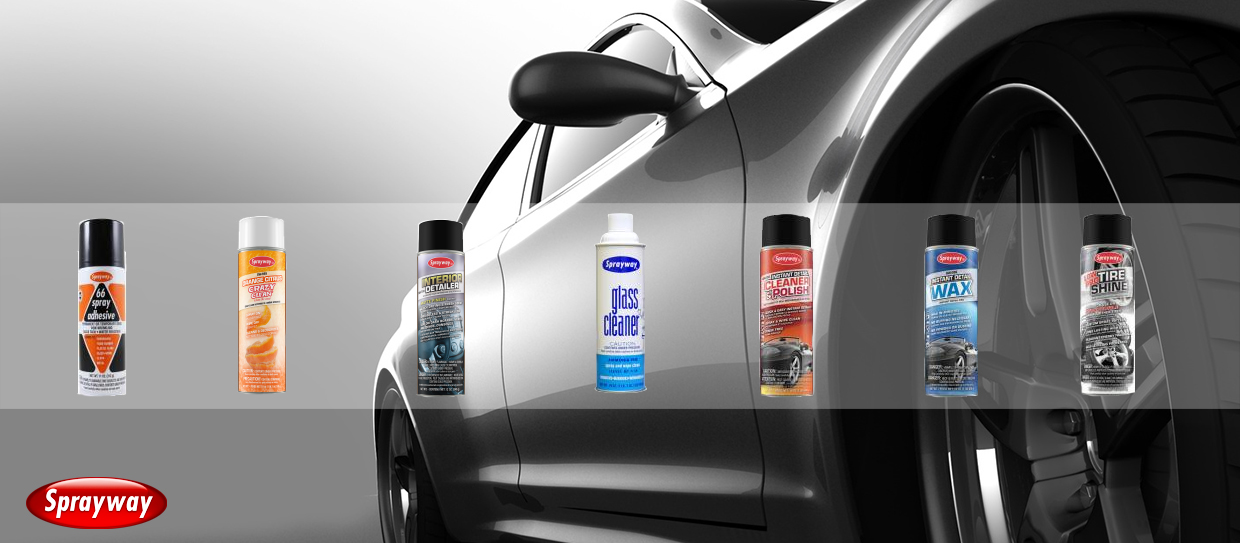 View Products
Sprayway Glass Cleaner
When professionals require the best glass cleaner on the market, they use Sprayway Glass Cleaner. Widely regarded as the 'World's Best Glass Cleaner', residential, commercial and industrial customers in the U.S. and across the globe love Sprayway. It has been used in the healthcare sector and automotive industry for decades. 19-ounce cans of Sprayway Glass Cleaner can be purchased individually, in value packs, or in larger bulk packaging.
Made in the U.S.A.
Sprayway is a proud American company that was established way back in 1947. The company developed the first-ever pressurized glass cleaner, and Sprayway quickly became the glass cleaner of choice for professionals. Sprayway cleans glass quickly and consistently, without leaving behind streaks or residue, for picture-perfect windows, windshields, mirrors and other glass surfaces. Sprayway Glass Cleaner can also be used on chrome and other hard surfaces, for a glossy shine.
The Sprayway Solution
When professionals require the best glass cleaner on the market, they use Sprayway Glass Cleaner. This powerful and refined formula dissolves grease, grit, grime, dust and more. Even accumulated grime in challenging industrial environments is cut through with ease. The Sprayway Glass Cleaner solution is released as a foam, which will cling to even vertical surfaces, allowing you to tackle problem areas without having to deal with drips or runs. Sprayway Glass Cleaner has a fresh, pleasant scent, and contains no ammonia. Sprayway Glass Cleaner is available with either a traditional spray nozzle or a trigger spray, and it's also available in easy-to-use wipes.
What Makes Sprayway Glass Cleaner so Great?
Sprayway Glass Cleaner goes right where you want it, without dripping or running. The foam formula is fast-acting and cuts through the most difficult grime immediately. Just spray and wipe it away, no rinsing required! The manufacturer recommends using a lint-free cotton cloth to polish the surface.
Restomotive and Sprayway Products
Restomotive is your online source for body shop and restoration supplies. We've been a Denver, Colorado-based company since 1973, proudly serving this great city and neighboring communities. We've been offering our products online since 1999, and were among the earliest companies in our segment to do so. We now serve all of North America and beyond. For nearly 50 years, Restomotive has offered our customers the brands they know and trust, with low prices, and impeccable customer service. We're known for on-time delivery and we have remained committed to those values as we have grown and our customer base has expanded.
Why Buy From Restomotive?
Restomotive is proud to partner with Sprayway, offering its superior glass cleaner and other fantastic products, both in our Denver store and on our website. Our partnership with Sprayway lets us offer you the lowest prices you will find anywhere! We often have specials available that let you save even more, and we provide shipping at no additional cost on all orders over $75.
When you order Sprayway Glass Cleaner from Restomotive, we guarantee you will receive an authentic product in perfect condition and that it will arrive fast. Ensuring a great customer service experience and earning our clients' trust is of paramount importance to us! We're always available to answer questions and provide support. Contact us today if you have questions about Sprayway Glass Cleaner, or about any of the products we sell.